Heading back to school can be an exciting and happy time for not just the kiddies but also for the parents. There can be tears of joy and nervousness for new ventures, getting up early and waiting eagerly at the door with backpack in hand or hiding under the covers hoping this day would be over already… and that's just the parents! Make going back to school easier for everyone in the household by starting now for a smooth school day transition.
Routine doesn't have to be of strict military precision, but by having some basic guidelines in place will take the stress and drama out of the morning. Start the week before school goes back by getting kids up out of bed at the same time they would if it were a school day. Not everyone is a morning person (ok, so this is perhaps something that some of us carry through life!) but the best way to avoid a tired and grumpy little one is to make sure they get adequate sleep the night before. This will not only help their wake up routine but helps their little bodies get the rest and repair needed and ensures they will be alert and attentive for the next day.
The more you do the night before and prior to them getting out of bed is key to a peaceful start to the day. With the uniform out and ready, bag packed (and the lunchbox pre-planned) make sure that you are ready yourself before they are up. If mum is fussing over her makeup and hair and or dad is trying to find a clean pair of socks, constantly stressing about time then the kids will feed off the rushed and panicked energy. Keep it calm, keep it simple and keep everything together… As much as you can anyway!
Brain Food
Breakfast is not only the most important meal, it is a vital component to helping your child have a positive day both mentally and emotionally. There are some great websites that have simple and nutritious breakky ideas for kids that are far superior to the nutritionally void vegemite on toast and bowl of cocoa pops (cringe!). Again, keep it simple and if you have breakfast pre-organised the better but you don't have to be Mather Stuart to whip up something like scrambled eggs ala bubble and squeak (hiding some of last night's left over veggies) or a healthy smoothie bursting with flavour (and nutritionally balanced with adequate protein, vitamins and minerals).
Breakfast time is also the perfect time to give them their yummy serving of DHA. One of the best things about the Nordic Naturals children's range of products is not just the exceptional quality, but the compliance. Kids love the taste! Made entirely from Arctic cod liver oil, these products are rich in the omega-3 DHA. DHA is essential for the proper development of the brain, eyes, and nervous and immune systems. Children's DHA also contains healthy levels of 100% natural vitamins A and D. Unlike many children's fish oils on the market, it does not contain any added sweeteners or sugars to mask the fishy taste. It doesn't have an overly fishy taste due to the purity of the oil! So you know that not only are you going to help support your child's ability to concentrate and absorb information at school but it will help with their behaviour and mood. Happy, healthy and smart kiddies… who wouldn't want that?!
Tick Tock Lets Follow the Clock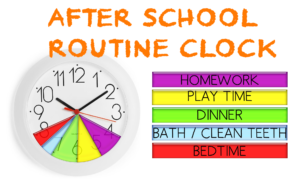 A great tip to help in the after school routine is living by the time on the clock. Now it sounds quite simple, but I have taken this from my own childhood and live by this (most) days myself! Teaching your children to be aware of 'when the big hand is on the X number' is a great tool to give them some sense of responsibility and organisation. So when the 'little hand is on the 5, it is time to do your homework' or 'when the little hand is on the 8, it is time to get to bed' means that everyone is conscious of time and routine and helps keep the household organised. Generally speaking this works really well but even for the evenings when someone had a big day at school and have their cranky pants on, mum or dad can drive the message home of the evening schedule. Of course this would be adjusted to suit your own sport and work commitments.
The Good, The Bad, and the Tantrums
At the end of the day school is a fantastic time to bond with your child, get them to sit at the kitchen bench to do their homework while you are preparing dinner. Make sure you become involved with their interests, find out their strengths and areas that they may need more support in and setting them up for how they will transition into adulthood. Ok, so that was a giant leap to the adulthood part (take a breathe, it is still a while away!) but what they learn now will have a profound effect on their future. By giving them the best support through food choices, learned responsibility and encouragement your child can and will excel through their school years. Enjoy this time (the good, the bad and the tantrums!) as your time and reinforcement of giving good health are some of the most precious assets that you can give to your child.
By Alex Hills
GradCertEvidBasedCompMed, BHSci (Comp Med), AdvDipNat, AdvDipWHM
Alex has been a qualified naturopath and in the natural medicine field for over a decade. During this time has had the opportunity to experience almost every aspect of the industry. She has been in clinical practice, vitamins manager at a pharmacy, marketing coordinator for an organic skin care company as well as training other practitioner in an area manager role.
Alex now works full time at Thera Health's Brisbane head office as the Sales and Marketing Coordinator to satisfy her inner tech-nerd and passion for educating both customers and patients in a fun and informative way!
Thera Health